My precious friend Landi started a blog
www.landilausen.org
so it of course made me want to get back to mine! I feel there is no better way to start off than the past year in review. Then I can jot down plans for the future and the New Year 2012!
2011 was a year that I will never forget.
As most of you all know I am crazy about this place called The University of Alabama!! I am a very proud graduate and let everyone around me know it. When I say it was and is still an honor to have been asked to be a board member of the Tuscaloosa County Alumni Association Chapter ...it is HUGE!! I have the pleasure of serving on the board and was voted to serve as President of Ladies of the Houndstooth. I am so excited and happy to help promote The University of Alabama. I hope I can continue to do this forever!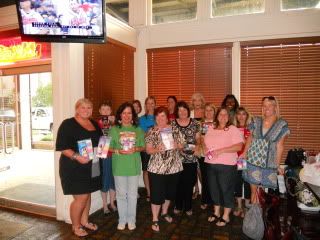 The one event that sticks out in my mind the most is the horrible tornado that came through my town Tuscaloosa, AL on April 27th. The fear, hurt, and sadness felt that day will never leave me. I am so happy that I was able to help serve others that lost everything that day. We never need to take one day for granted because literally life can be taken in the snap of a finger.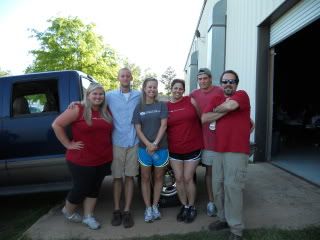 Our Serve Team that helped in the Brookwood and Holt area.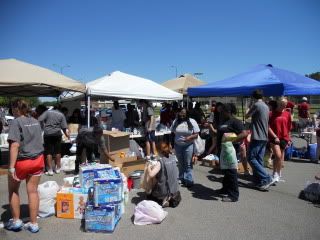 My Church "Church of The Highlands" set up a location that people could come by and get supplies and clothes.
Another HUGE part of 2011 is that a took an AMAZING job!! I am now the Leasing Manager/Marketing Director for The Retreat! I could not have asked for a bigger blessing. The Lord is always watching out for me.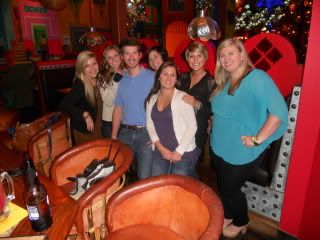 Some of our staff at Blakes going away party.
Halloween ...of course we dressed up for work!
We have a huge property, a staff of 15 leasing ambassadors, 3 managers, and never a dull moment!!
Speaking of Landi. I had the chance to go home to Houston with her. We all know how much I LOVE LOVE LOVE TEXAS so this made me one happy lady. I met Landi as her boss and now have a best friend. She is one wonderful lady with the most giving heart of anyone I have ever met. She has made the decision to move back to Texas and finish her degree at TCU. I am going to be super sad not having her here but I know she made the best decision for her. Good news for me...I get to go to Texas a lot more often. I will make one more plug for her. She is not only the biggest sweetheart ever but she is one talented designer. She will one day (fingers crossed) take care of my home needs!! Check out her blog of great ideas
www.landilausen.org
.
Mrs. Lausen (most beautiful mom ever) had this adorable welcome board for us when we arrived!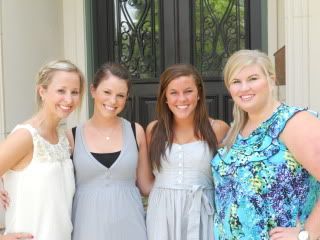 All the ladies ready for a little Texas shopping!
ALABAMA FOOTBALL is ALWAYS my favorite time of year. It is time spent with my family, friends, and of course my favorite men in uniform! This year our road trip was to State College to watch the TIDE take on Joe Pa at his home. Little did I know we would be Joe Pa's last loss as a head coach. Once again a memory I will never forget.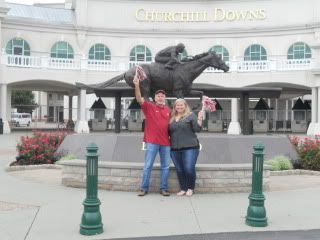 We stopped and gave a Big Roll Tide at Churchill Downs!
Paid Joe Pa a little visit!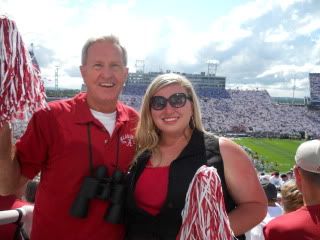 We made it through the White Out with a WIN!!
Tailgating with the girls is another part of football that makes it so much fun! We have been doing this for years now and I am sure the tradition will continue as long as we are all close enough to be at the games!
Now I am counting down the days until January 9th hoping for Number 14!!
November 6th marked my 26th Birthday....CRAZY. Time sure does fly by. I always heard the statement "Don't wish your life away" now I know why it is so popular.
One of my THREE cakes that I was given. I am so blessed with amazing family, friends, and co-workers.
After my birthday this little special someone decided to add a little extra ray of sunshine to my life! Meet Ryan....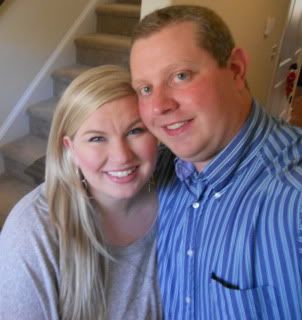 He is the sweetest man I have ever met, treats me how my daddy would approve of, and so far puts up with me! He loves football more than I do (can you believe that)? He sure put a twist on the end of 2011 but has me looking forward to what is to come in 2012!!
Did I mention I got Diamond Earrings for Christmas.....ummm Yeah he knows the way to my heart already football and diamonds haha!
Beyond carrying the boy over into 2012 I also plan to take my start to getting healthy with me!! I started at the end of October eating better and working out a couple of days a week. My precious co-worker Shelby told me about an amazing program she had been doing so I looked into it. So far I love it and the results speak for themselves. I have lost 40 pounds to date and plan on continuing the program until I am at my desired size. I have no desire to be a runway model (for those of you who know me, I can hear the Amens already) I just want to be a healthy version of Lara Ellen!
I always look forward to seeing what the future holds. I know the Lord has big plans for my life as he shows me each and every day. For the year 2012 I hope I can become a better Christian, grow closer to the Lord, lead by a better example, be a role model for many, put a smile on someones face daily, change someones life, give more than I ever have before, love people with all that I have, continue getting healthier, reach personal goals, reach company goals, and be the best all around person that I can be.
Oh yeah for 2012 I plan on being a better blogger!
Thanks for sharing my life with me.
Lara Ellen