My Birthday week is now over…sad day. However, I must say that my Birthday week was PERFECT!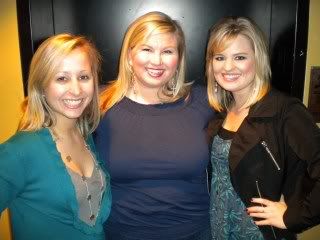 I will recap the week for you:
Thursday- B'day Dinner with Abby
Friday- Mom and MeMe took me to Bday Lunch…Prepared for BAMA domination of LSU….Midnight got some of the best phone calls to wish me Happy Birthday
Saturday- Sick as a dog because I was so worked up over the football game… Watched as my TIDE beat those Tigers!!!!
Sunday-Took the whole day to recover from the emotional roller coaster witnessed the night before!
So how could I not say that my weekend was PERFECT!!! BAMA showed the SEC how the WEST was won!
So today Amy and I had a great ROOMIE day! We watched about 15 episodes of 20/20 that had collected up on the DVR, both of us did homework, and we went and tried Yogurt Mountain….you MUST try it=AMAZING! I love her dearly and cherish the moments I get with her. I asked her tonight what she was going to do if I did get a job and had to move….her response "I guess find someone to pay the other half of the rent." Great I'm glad that was what she came up with!! Nahhh I know she will miss me just like I will LOVE getting to finally run the flippin air 24/7. My favorite part of the night was when we were looking at our bills. I asked her how much the power was she told me. I then asked how much is the water? She said yay the water is way down. Last month we used 5000 gallons of water and this month only 3600 gallons. First of all I have no clue how we use that much water but whatever. She says I don't know either but our bill is only $121.00 I about lost it I said ONLY $121.00 dollars… a water bill should only be around 20-30 dollars. She said Ohhhhh its only $36.00 we averaged 121 something. This is why I love Amy Byrd……..she always brings laughter to my life!!!! Gah I LOVE HER!
She has also recently found someone else's blog that she likes. Let me say she has no clue who this person is but it has brought her all kinds of entertainment. I made her assure me that livinglikelala would remain at the top of her list considering she ACTUALLY knows me.
As the times nears for me to begin applying for jobs ….I can't believe it's here. I am so excited but way nervous about what my future holds. I am really open for anything and willing to go anywhere. I hope that I end up in Nashville …that would be the dream. I am going there this weekend and I am going to look for some places to apply that I might not have noticed while working for the best internship ever. I really hope things work out in Nashville because it feels like that is where I need to be.
I know everything will work out how it needs to so I am excited to see!
Time to finish studying for the test I have tomorrow …..ROLL TIDE and Go Titans!