This weekend was rather crazy. It started out Friday night I had my first wreck reversing out of the Sonic Drive-In...LOVELY. Saturday Amy and I went to tailgate with our Abs on the quad. It was a great day and not entirely to hot. BAMA WON!! ROLL TIDE ROLL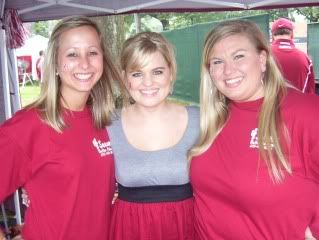 Saturday night was a BBQ for Lindsey and Matt in Carrollton.
Let's just say that was an adventure. Nothing like a bunch of good ole country people coming together to eat! I hit a rabbit on the way over....not surprised with the luck I have been having with my car.
Today Amy and I went to Birmingham to pick up stuff for Lou's Bachlorette Party that is coming up this weekend. We are going to Memphis to see Graceland! We are so excited about it. I have a very busy week ahead of me before I can enjoy the weekend though so I need to get focused!
I am very excited to see what this week holds. I am supposed to get to see Blake if all goes as planned. If not.....well then I will have some answers that I have been wanting and needing! Either way if he comes or not it will be a good thing! Getting to see Blake is about like seeing the Easter Bunny he comes around once a year. Haha well its really not THAT bad but pretty dang close. It has been a while since we have seen each other and its about to send me over the edge. In high school I was in what I called a long distance relationship....hahah 30 minutes is not a long distance relationship now that I look back on it. Let me first say Blake and I are in no relationship officially but......who knows what the future holds! With me being at Alabama and him being in Gadsden working it is really hard to see each other. IT IS NO FUN...I DON'T LIKE IT AT ALL. Neither one of us can just pick up and drive almost 2 hours just for a quick hangout. However, through it all I feel like I know him better than I ever could if I was with him everyday. It for sure shows you how much you care about someone when you can't be with them everyday but still feel the same way!! I'm pretty CRAZY about him...I admit it! He stinkin works all the time and that is great...I'm glad someone is making some money in this world but he even has to work on almost all his off days. I can blame him for most of that because he will NEVER tell them NO. Well this week I am putting my foot down. He can take a day that he deserves off and come see me. I don't think that is to much to ask and if it is then we really do have a problem. We shall see...................
Literally I would like to see his face hahaha!
I planned my hair appointment this week also just in case Blake has to work and can't come. Going to see Christy at Salon 1201 is about the ONLY thing that will make me happy this week is Blake does not get to come! Nothing makes my day more than someone besides myself shampooing my hair. I must say if I could afford to hire Christy personally I would. I am getting excited thinking about it right now. YAY!
I have a little test tomorrow that I should probably be studying instead of blogging so I'm going to go now! Oh I can't wait to update later this week hopefully with GOOD news!!